First Lego League Challenge
Back
26 Apr 2023
Trips and Visits
On Saturday 22nd April, our team L.Y.R.A (Langton Year 8 & 10 Robotics Association) consisting of May, Charlotte, Iliana, Sylvie, Sofia, Isadora and Ashna travelled with Prof. Parker and Mr. Edwards to the National First Lego League Challenge in Harrogate, after winning the regional round.
It was a wonderful experience and we got to meet Maddie Moate (as shown in the photograph) and lots of other amazing teams and people. It was held at the Harrogate Convention Centre and was live streamed on YouTube. We arrived the day before and stayed in a hostel in York and ate at Pizza Express (the dough balls were delicious, and the waiter even gave us free dessert!) and we got a train to Harrogate early in the morning. Once we reached there, we signed our teams in, and had our first practice round of the robot game (an obstacle course that has certain "missions" that we need to code the robot to do) and then the opening ceremony, which was hosted by Maddie Moate, Tom Deacon, and Prince Abdi (the closing ceremony was also hosted by them).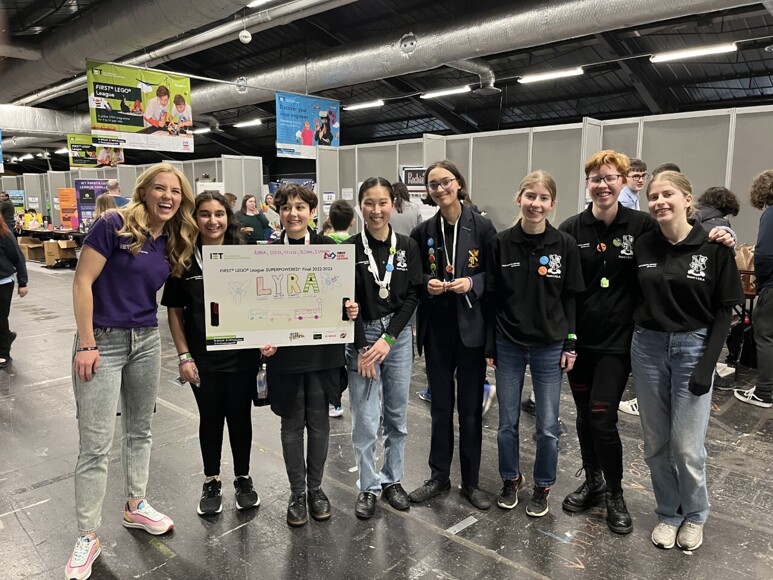 We then had our first robot round, which went smoothly and our project presentation came next. Our innovation project was an underground subway station based entirely upon renewable energy resources. It combined unique and underappreciated ideas such as piezoelectricity (a mechanical form of energy that is generated when pressure is applied) and wind turbines and electrolysis, via which the energy generated by the wind turbines that would be attached to the walls would be stored in the form of green hydrogen. This would generate, along with the piezoelectric crystals enough energy to power one of the world's busiest stations, Waterloo.
After we had our presentation and after having our lunch, we had round 2 of the robot game and then booked another practice session, while Iliana and Isadora had fun with the White Bricks Challenge. We also made a team placard, with one side showing what our innovation project was about and the other showing our Robot Game. After having Round 3 of the Robot Game, we watched the Knockout round which had massive robots with shocking speed and accuracy. We got ourselves some seats and caught up on some sleep along with some snacks and then we had the closing ceremony. It was truly an amazing experience, and we hope to do it again in the future.
Ashna - Year 8 student