School Direct - Train to Be a Teacher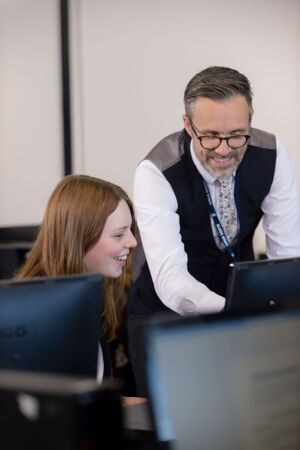 For those considering training to teach, SLGGS is working with the East Kent Learning Alliance (EKLA) and Christchurch University to offer excellent teacher training through the School Direct training programme. You can train as a secondary or primary teacher to gain QTS (Qualified Teacher Status).
School Direct is a hands on, practical school based training programme which allows student teachers to work in their school from day 1. This ensures that you are able to work through an entire school year in your school and really feel part of the learning community.
Student teachers are provided with a range of experiences for the contrasting school placement across EKLA's partnership schools as the year progresses.
---
Simon Langton Girls' School is a partnership school for teacher training in the East Kent Learning Alliance, providing training to postgraduates in both primary and secondary specialisms.
Full details HERE
Guy Homerston - ITT Professional Mentor - ghomerston@langton.kent.sch.uk Mairi Lee - ITT Administrator - mlee@langton.kent.sch.uk
---
Please note that for 2023-2024 all our School Direct positions are non-salaried (please note there are bursaries available to certain subjects and grade of degree, please see the below link to the DfE for more information)
Comments from previous School Direct student teachers
"The support and advice I have received has been phenomenal. I have thoroughly enjoyed my time learning in such a positive environment." Emma Kinch (History School Direct)
""It's great to be carrying out training with a group of people who are all going through the same ups and downs. My colleagues are supportive and willing to help." Alice Fleckney (Science School Direct)
"I have had such amazing support from both my subject and professional mentors during my time training here." Katie Jane Thomson (Art and Design School Direct)
Find out more about teacher training courses and funding HERE
Apply HERE